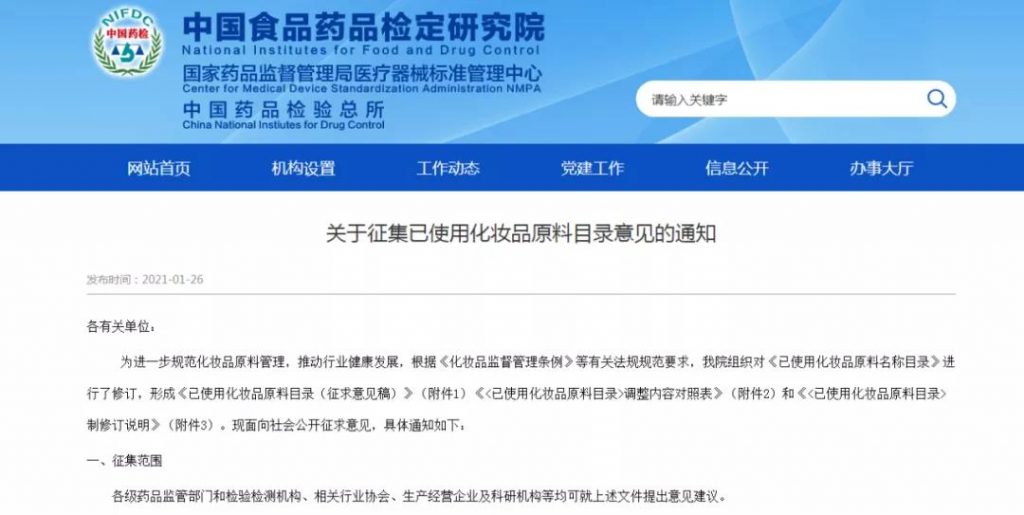 On January 26, the China National Institute for Food and Drug Control issued the "Notice on Soliciting Opinions on the Inventory of Existing Cosmetic Ingredients in China" (hereinafter referred to IECIC).
The new version of IECIC deletes 57 kinds of existing ingredients and add 140 new ingredients.
According to the notice, the newly released lists contain a total of 8980 kinds of raw materials, which is 190 new added compared with the 8783 kinds included in the current version IECIC 2015. 
However, CosmeticsBridge noticed that it also listed the 7 deleted raw materials and the 50 raw materials that to be included in the "List of Prohibited Cosmetics" (draft for comments), such as 2,6-bis(2-hydroxyethoxy) Base) -3,5-pyridinediamine HCl, formaldehyde, 2,4-diaminophenol, andrographolide, etc.
In other words, the total number of new IECIC has increased from the original 8783 to 8,923, andit is 140 new added raw materials in total.
According to the new catalog, there are three main sources of 140 additional raw materials. 1. Cosmetic raw materials that have passed the review. For example, on December 21, 2020, the four raw materials lauroylarginine HCl, methoxy PEG-23 methacrylate/glyceryl diisostearate methacrylate copolymer, phosphorus Acyl oligosaccharide calcium and steareth-200 are among them. 

Secondly, it added the restricted ingredients, preservatives, sunscreens, colorants, hair dyes, such as Acid Red 195, Bromoform, Phenol green and so on, which were not included in the "IECIC 2015" BUT listed in the "Safety Technical Specifications for Cosmetics" (2015 Edition). Third, it is the original raw materials. According to the specific usage of the raw materials in the cosmetic administrative licensing management system, a large number of orchid extracts and algae extracts have been added.
Furthermore, Cosmeticsbridge noticed that TSN (MELIATOOSENDAN) bark / root bark extract, LEPIDIUM APETALUM seed extract Was added to the catalog.

Additionally, hump oil, Samara (Elaeagnus mollis diel) oil, Glabridin three kinds of raw materials and as the review by the audit are added to the catalog. 
First public disclosure of the upper limit of the use of raw materials
According to the "Regulations on the Supervision and Administration of Cosmetics" (hereinafter referred to as the CSAR), requires registrants and fillers to conduct safety assessments on cosmetics and new raw materials. The revision of the new IECIC mentioned that the safety of cosmetic raw materials is closely related to the safety of cosmetic products. A complete raw material database is the basis of cosmetic risk assessment.
However, the current IECIC only contained the names of used raw materials, and did not sort out the use details of raw materials, and could not provide a reference for risk assessment. Therefore, in addition to adjusting the names of raw materials (including Chinese/English/INCI names) in the new IECIC, some new raw materials have been added to the highest historical usage of some raw materials for the first time.
Download:
NEW Inventory of Existing Cosmetic Ingredients in China (IECIC)
Adjustment content comparison table
Tags:
IECIC